Athletics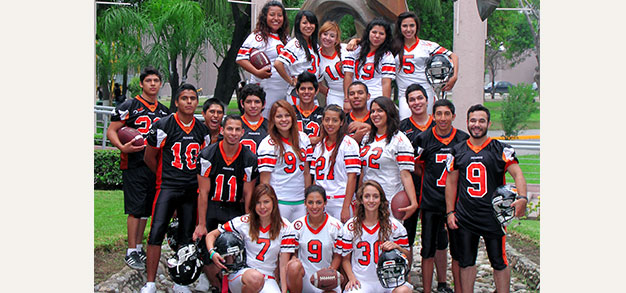 At the UANL School of Architecture, sports are practiced, which contributes to improve students' health for a better academic achievement and a better quality of life.
In the athletic department, we detect sports talents to be part of the representative teams of our school and university.
Services available:
Gym (from 8:00 to 20:00 hrs)
Physiotherapy (from 13:00 to 15:00 hrs)
Sports equipment department (from 8:00 to 20:00 hrs)
Sports facilities:
Fields and rooms for practicing a variety of sports:
Soccer, football, flag football, softball, basketball, volleyball, handball and indoor soccer.
Judo, karate, tae kwon do, kung fu, olympic wrestling, and cheerleading.
Dressing rooms
Members of the representative team may enjoy the following benefits:
Food and drink student discount (50%)
Academic scholarship 50%
Certified trainers
Access to sports facilities
Health insurance
Lockers
.
Discipline name
Head
Time
Frequency
Chess
Óscar E. Robledo Flores
12:30 – 14:30
Monday to Friday
Athletics
Edgar Enríquez Treviño García
16:00 – 18:00 18:00- 20.00
Monday to Friday
Men's basketball
Lic. Jorge Alberto Guillen Vela
13:30 – 15:30
Monday to Friday
Women's basketball
Eduardo Campos
07:00 – 08:30
Monday to Friday
Baseball and softball
Lic. Óscar Cepeda Paz
16:00 – 18:00
Monday to Friday
Bowling
Anamia García Garza
10:00 – 14:00
Saturday
Football
Roberto Zarazúa
14:00 – 16:00
Monday to Friday
Soccer
Juan Antonio Magallanes

Juan Manuel López Mosso

12:30 – 14:30
Monday to Friday
Women's Soccer
Guillermo Mejía
19:00 – 20:30
Monday to Friday
Cheerleading
Carolina Álvarez García
13:00 – 17:00
Saturday
Cheerleading
Carolina Álvarez García
13:00 – 16:00
Sunday
Weightlifting
Alan Andrés Torres Dávila
08:00 – 12:00
Monday to Friday
Handball
Arturo Iracheta Martínez
12:30 – 14:30
Monday to Friday
Judo
José Jaime Valdez Badillo
12:30 – 14:30
Monday to Friday
Karate Do
Edgar Omar Ojeda Mata
12:30 – 14:30
Monday to Friday
Lima Lama
Anselmo Rodríguez Quiroz
12:30 – 14:30
Monday to Friday
Wrestling
José Jaime Valdez Badillo
12:30 – 14:30
Monday to Friday
Swimming
Juan Arturo Ortega García
12:30 – 14:30
Monday to Friday
Tae Kwon Do
Jorge Alfonso Cruz Vicente
13:00 – 15:00
Monday to Friday
Tennis
Lic. Sabas Morín Sandoval
12:30 – 14:30
Monday to Friday
Flag football
Rosendo Reyna Hernández
12:00 – 14:00
Monday to Friday
Volleyball
Óscar Esdras Aguirre Gallegos
12:30 – 14:30
Monday to Friday
Author Department of Athletics